What Is Concierge Dental Care? A Concierge Dentist in Newport Beach, CA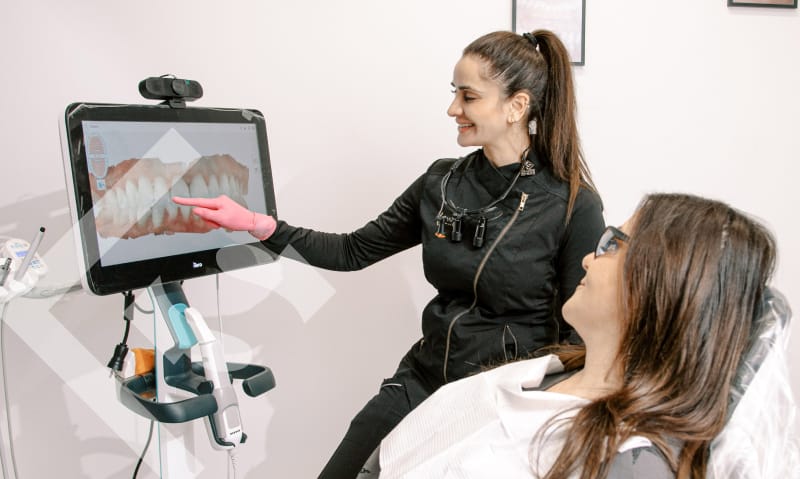 You deserve the luxury of concierge dental care.
Imagine receiving outstanding dental care that's customized to your needs without waiting weeks for an appointment, dealing with waiting rooms, or feeling rushed through your visit. Concierge dentistry provides this and much more.
If concierge dentistry is a service that's new to you, you're probably wondering what it is and why it might be something worth considering. Here are the answers to common questions about concierge dental care and our approach at Luminous Smiles.
Why is concierge dental care becoming popular?
Concierge dental care isn't new, but it has gained considerable momentum since 2020, as the pandemic sent both dentists and patients scrambling. Dentists were coping with elaborate sanitization and social distancing guidelines, while patients faced weeks or sometimes months of waiting to receive dental care.
Concierge dentistry became a very appealing alternative that would allow dentists to dedicate their time to fewer patients while offering a higher level of care. In return, patients could receive care quickly and experience customized service that focused on one-on-one time with their actual dentist, not just a hygienist or dental assistant.
Who uses concierge dentistry services?
Concierge dentistry is available to anyone, but we do find that this service is in higher demand among those who must prioritize their time, privacy, and security out of necessity. Individuals who would most benefit from concierge services include busy executives, business owners, actors and actresses, politicians, influencers, and more.
In addition to serving patients living in Newport Beach and the broader Orange County region, we eagerly invite patients visiting the U.S. from abroad to consider our concierge dentistry services. You can have a fantastic vacation in sunny California and get the smile of your dreams at the same time.
What are the benefits of concierge dental care?
Concierge dental care offers incredible advantages to patients, and most of our concierge patients never dream of returning to the traditional dentistry approach after experiencing what we offer.
Here are the most valuable benefits you can experience with our concierge services.
You'll develop a genuine relationship with your dentist and their team. You won't be another face, but a person with unique needs and goals for their smile.
Your dentist will personalize your care plan to meet your short-term and long-term goals. They'll also provide information on services you may not have considered.
By clearly understanding your medical and health history, your dentist can help you improve your overall health by helping you achieve optimal oral health.
You'll have open and transparent communication with your dentist through phone, text, and even video calls. You won't need to play phone tag just to speak with them directly.
We'll protect your anonymity and ensure your appointment is discreet, with private use of our dental practice.
We'll provide curated options for security services, transportation, lodging, dining, and even entertainment.
Many of the benefits of concierge dental care are only possible with a passionate and dedicated team. Dr. Desai and the Luminous Smiles team provide every patient with outstanding dental and personal care.
Dr. Desai is a highly accredited leader in her field and has achieved several distinguished achievements, including being the only female American Academy of Cosmetic Dentistry–accredited doctor in Newport Beach.
Which dentistry services does concierge care cover?
Luminous Smiles provides general and cosmetic dentistry services. We offer care for individuals and families and provide sedation dentistry options for those with dental anxiety.
Many patients come to Dr. Desai for cosmetic dental care to repair damage or for a Hollywood-esque smile makeover. Our popular cosmetic services include personal smile design, dental crowns and bridges, porcelain veneers, professional teeth whitening, and Invisalign treatment.
We also provide preventive and restorative care to maintain your optimal oral health. These services include fillings, root canal therapy, routine cleanings and exams, periodontal therapy, TMJ treatment, and more.
Last but not least, we invite you to look at our smile gallery to see what Dr. Desai has accomplished for patients just like you.
Learn more about the concierge dental services that Luminous Smiles offers.
Concierge dental care can be a life-changing experience that will leave you feeling excited to visit your dentist. Many providers, including Dr. Desai, will gladly customize your concierge care package if you require specific services or accommodations. Discover what concierge dental care can offer you by contacting the Luminous Smiles team for more information. You can also schedule a consultation with Dr. Desai to discuss your needs and meet her virtually or in person at our Newport Beach, CA, office.