Discreet Concierge Services for Your Dental Restoration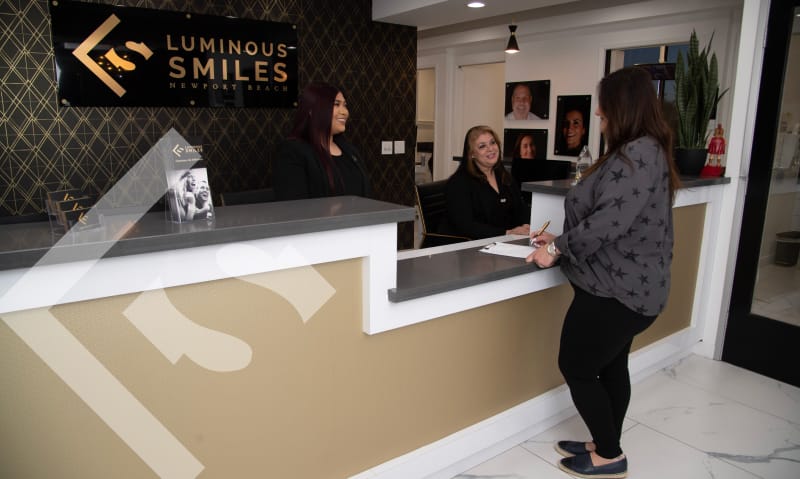 Restorative Dental Care With Concierge Service
Your smile is one of your most valuable assets, and protecting it often involves restorative dental care at some point.
There are several reasons teeth develop damage and restorative care becomes necessary. Tooth decay and the effects of gum disease are the two primary culprits, but even an individual with impeccable oral hygiene may still experience an accidental chip or enamel erosion.
Restorative dental care may be routine, but Dr. Desai brings an elevated approach to patient care with concierge dentistry. Busy professionals, people of influence, and anyone who values privacy and luxury can opt for concierge service during their restorative care appointment.
Receive dedicated time with one of Newport Beach's finest dentists.
Dr. Desai is a highly accomplished dentist in Newport Beach. She is the only AACD-accredited woman in the area and the dedicated cosmetic dentist for Miss California pageant winners. Additionally, she's been voted as one of the best dentists in Orange County for three years and counting!
The reason for Dr. Desai's success in dentistry largely revolves around her focus on providing a superb level of care to each and every patient who walks through the doors of Luminous Smiles. Her education and expertise give her impeccable technical and artistic skills in restorative and cosmetic care, but her personality and desire to make every patient feel their best is what really sets her apart.
Adding concierge dentistry to her menu of services only felt natural as many of Dr. Desai's patients value privacy, security, and comfort during their appointments. This service is also ideal for patients flying in for their dental care appointments and need accommodations, transportation, and more. Rather than leaving patients to plan their trips by themselves, Dr. Desai provides guidance and recommendations. Transportation is an especially popular concierge service, as patients can relax to and from their appointments without worrying about traffic, navigation, or relying on potentially disappointing or unsafe rideshare companies.
Most importantly, your concierge service gives you exclusive one-on-one time with Dr. Desai. We'll reserve our practice just for you, for a completely private experience. You won't need to sit in a waiting room; nor will you ever feel rushed through a visit. We're here to serve you in any way we can.
State-of-the-art restorations to revive your smile's flaws.
Dr. Desai is an accredited cosmetic dentist, but cosmetic dental care isn't the only service she offers. Restorative dental care is something Dr. Desai frequently performs when patients experience damage to their smiles.
We provide every restorative service you can imagine, from simple fillings or dental crowns to full-mouth rehabilitation. Dr. Desai has brought a new team member to Luminous Smiles—Dr. Favian Cheong, a fully qualified and certified prosthodontist. Dr. Desai and Dr. Cheong can perform cosmetic and functional restorations, including replacing missing teeth with dental implant technology.
To complement our restorative dentistry services, we provide sedation dentistry for individuals with anxiety or who are undergoing extensive restorative care. Our office is also outfitted with the latest in dental technology, which helps you feel more comfortable and confident that you're receiving the very best care during your appointments.
Remember that restorative care is only one way Dr. Desai helps patients like you achieve and maintain the smile of their dreams. If you're dreaming of a complete smile makeover, in addition to your restorative care, or in the future, Dr. Desai can help you make your dream a reality. You can also return to Luminous Smiles every six months for preventive care visits, which include a standard wellness exam, cleanings, and perhaps a little something extra, like a whitening session.
As a concierge service patient, Dr. Desai will also be available via phone, video, and text to confirm appointments, answer questions, and follow up after visits.
Schedule a virtual or in-person consultation with Dr. Desai today.
Dr. Desai provides standard in-person consultations for locals, as well as virtual consultations for non-locals or anyone with a packed schedule.
A virtual consultation allows you to meet Dr. Desai, get to know one another, and discuss what dental restoration or treatment may be necessary to revive your oral health. You'll be able to book a time that works with your schedule, and if you're flying in, Dr. Desai will assist you in finding the perfect hotel and additional accommodations to meet your needs.
Take the first step toward your most Luminous smile yet by booking your consultation today. Get in touch during business hours by calling our office, or for non-business hours, simply fill out this online request form.