Dr. Desai's Favorite Venues for Concierge Dental Visits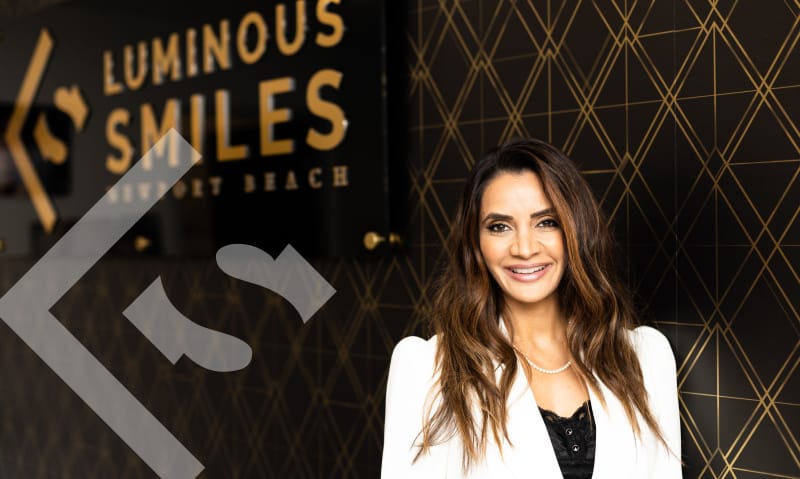 Luxury Concierge Dentistry Service in Newport Beach
Luminous Smiles' concierge dentistry services elevate the patient experience to a new level of comfort, luxury, and privacy. Our concierge service is most popular amongst celebrities, busy career professionals, influential figures, and anyone who values privacy and security.
Because Dr. Desai has many patients who travel for her exceptional dentistry services, an integral part of our concierge dental accommodations includes recommendations for the best hotels and restaurants in or near Newport Beach. The following recommendations were selected by Dr. Desai based on her personal experience traveling throughout Southern California.
Dr. Desai's Top 5 Hotels to Complement Your Concierge Service
Newport Beach has a dizzying variety of hotels, resorts, and private accommodations to choose from. Rather than vetting potential locations yourself, Dr. Desai recommends the following five for her concierge patients. While each hotel listed below offers something unique, you'll find that they all provide you with luxurious rooms and impeccable customer service in beautiful locations.
1. The Resort At Pelican Hill
Pelican Hill is a five-star luxury resort situated on over 500 acres of coastal property. You can choose between private villas or bungalows for your stay, which provides a more residential feel than typical hotel rooms. The entire resort has a casual but elegant warmth, with the interior and exterior beautifully showcasing its Italian inspiration.
This is an absolutely breathtaking destination for someone who will be staying in Newport Beach for a few days.
2. Lido House in Newport Beach
What used to be a former City Hall is now Lido House, a luxury hotel named after its close proximity to Lido Isle in Newport Beach. Lido House is bright and welcoming, exuding the light and airy ambiance you expect from a true beach house experience. In addition to the Lido House hotel, you can opt to stay in one of their five private cottages if you want a more private experience.
3. Balboa Bay Resort
Dripping in warm wood tones and deep blues, the guest rooms and suites at Balboa Bay Resort make for the ultimate seaside escape experience. This hotel provides everything you want in a resort stay while maintaining a home-like atmosphere so cozy you won't want to leave. Balboa Bay also offers transportation to and from the nearby John Wayne airport.
4. Hyatt Regency Newport Beach
The iconic Hyatt Regency Newport Beach hotel has long been known as "The Newporter" to locals, and after five decades, this hotel continues to be a favorite destination. The hotel itself is located on 26 acres of beautiful landscaping, which includes palm trees and succulents. You'll also find three large pools, a golf course, and a venue for live music. As for the rooms, you won't be disappointed. You can choose between standard guest rooms, suites, and private villas, all of which are outfitted with modern technology and a bright interior design.
5. Hyatt Regency John Wayne Airport
The Hyatt Regency John Wayne Airport is a great choice if you're flying in for your dental care visit and prefer to stay close to the airport. This hotel has been recently remodeled and now features 343 rooms, including standard suites with balconies and an impressive Ambassador Suite with a parlor, private bedroom, and dual bathrooms.
Part of our concierge service includes curated options for transport and security. If you have questions about transportation or security during your stay in Newport Beach, our staff will assist in finding the ideal solution to meet your needs.
Enjoy a Delicious Meal Before or After Your Appointment
Don't forget to celebrate your upcoming smile makeover with a decadent dinner at one of these three renowned restaurants in Fashion Island, a must-visit shopping center in Newport Beach.
1. Red O Restaurant
Stepping into Red O is like entering a modern tropical paradise with authentic Mexican cuisine and handcrafted cocktails. You can enjoy lunch or dinner in their main dining room, or retreat to their bar to sip on world-class tequilas while listening to live music. Their weekend brunch menu is especially popular amongst Fashion Island shoppers who want to enjoy a filling breakfast before taking on the day.
2. Cucina Enoteca
If Italian cuisine is what you're craving, you'll definitely want to visit Cucina Enoteca. Cucina is a Newport Beach favorite with its fusion of fresh seasonal California produce and classic Italian flavors. Best of all, Cucina's produce is gathered from local farms, and all dishes are made fresh—from scratch—daily.
3. Great Maple
Sometimes comfort food is what beckons the soul. Great Maple is a modern American eatery with a downright mouthwatering menu. Whether you're craving a burger, a fresh salad, or a decadent breakfast, Great Maple is the place to go.
In addition to these hotels and restaurants, we're eager to provide recommendations for entertainment, museums, spas, scenic views, and so much more.
Dr. Desai's Commitment to Excellence and Comfort
Dr. Desai is well-known for providing stunning and discreet cosmetic dentistry in Newport Beach, CA, but that's not all.
Luminous Smiles offers a complete menu of dentistry services, including general or preventive care, restorative dentistry, and cosmetic smile makeover solutions. Whether placing a simple dental filling or planning a complete smile design, Dr. Desai brings expert knowledge and an artistic touch to every service. If you'd like to visit one of the most highly accomplished cosmetic dentists in Newport Beach, call Luminous Smiles to schedule a consultation. As part of our concierge service, Dr. Desai also provides virtual consultations.