Why Concierge Dentistry? 4 Ways We Take Your Privacy Seriously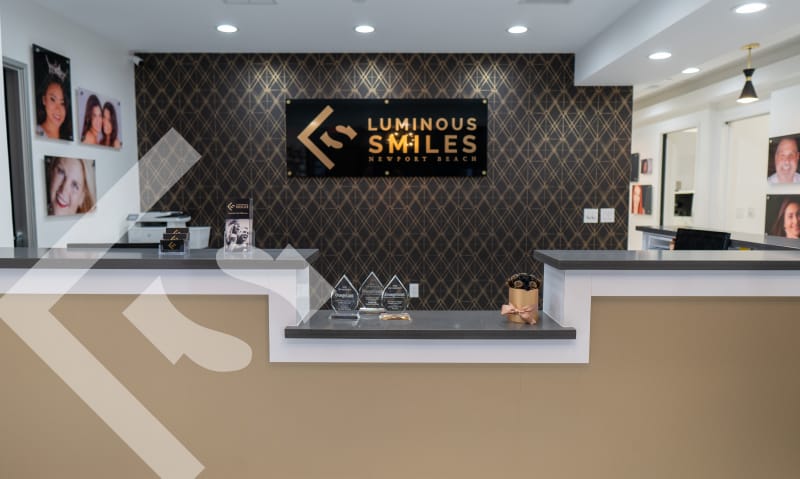 Your privacy is our priority.
If you live in the limelight, you know how sacred your privacy is. And at Luminous Smiles, your Newport Beach concierge dentist, we understand it too. Our patient base consists of a diverse group of public figures, celebrities, and businesspeople who value privacy and access to the best in services, whether it be hospitality, dining, transportation, and, yes, health and dental care. So if you are experiencing a toothache or want to get in for a professional dental cleaning or a cosmetic dental treatment, we offer a discreet experience specifically tailored to your needs.
Our concierge dentistry service prioritizes discretion with the utmost in professional dental care. From start to finish, you can expect white-glove service throughout the process. We offer assistance with security, transportation, lodging, dining, and entertainment to ensure your visit is suited to your needs and on your time. Whether you need an in-person visit or a video consultation, we've got you covered.
1. It starts with a place to stay and dine.
Our patients want nothing but the best. And Newport Beach has some of the best accommodations that our patients love. From the Resort at Pelican Hill to Marriott's Lido House to Balboa Bay Resort, we'll help you reserve your accommodations. We can make your reservation under a pseudonym to respect your privacy and meet your specific needs. And if you are looking for the best dining that Newport Beach offers, we can also assist with your reservations. Cucina Enoteca, Red O, and Great Maple are some of our patients' favorites. Rest assured that we can also help with your transportation needs for exceptional convenience if you are flying in for your visit.
2. Video consultations or in-office—the choice is yours.
Your time is valuable, and we don't want to keep you from everything you need to do. Whether you have a dental concern or want more information about cosmetic dental treatments, you may prefer the convenience of a video consultation. We offer secure video conferences so patients can confer one-on-one with Dr. Desai. This saves time up front as well as in the office. Not only that, but our patients can conveniently communicate with us via text or phone call before or after their consultation or appointment. We understand that some questions just can't wait.
3. Our practice is reserved for you.
Many dentists service dozens of clients daily, making it hard not to bump elbows when passing in the hallway. But our patients require an added degree of privacy, and we know that you don't want everyone to know you were in for a dental treatment. So when it comes time for your appointment, please know that our entire practice will be reserved exclusively for you. We'll be ready and waiting when you arrive, working around your schedule and giving you as much one-on-one time with Dr. Desai as you want.
4. Privacy is the name of the game.
We know that your privacy is important. And whether you are a seasoned celebrity used to dodging the paparazzi, a dignitary or public official whose every move is noted, or you have experienced newfound stardom, we understand the rules.
Your public and private life deserve boundaries. Many of our concierge patients work with a large team to manage their many commitments. The downside of this is that it can blur the line between your public life and private life, compromising your privacy due to the many people who "need to know." At Luminous Smiles, we provide the utmost discretion regarding your appointments and any other planning details so you can communicate your dental needs and wants without concern.
Avoid the paparazzi. Now, we know there are some clever ways to avoid the paparazzi. Celebrities deal with fame in different ways. Some prefer to remain private, whereas others are happy for details of their personal lives to be shared in the media. We'll do whatever we can to ensure that your location is on a need-to-know or want-to-know basis.
Take a break from the spotlight. One of the best ways to take a break from all those spotlights highlighting your every move is by indulging in some self-care in Newport Beach. We can recommend the best massage clinics, wellness spas, and more. And another great way to get away from it is by booking a cosmetic dentistry treatment. Dr. Desai is the only female American Academy of Cosmetic Dentistry–accredited doctor in Newport Beach, and this is why her services are so popular.
Capture some alone time. You don't need everyone and their brother hovering over you at your dental appointment. We offer security to ensure you are safe and secluded during your treatment. And you can have as many or as few people in the clinic as you desire. After your appointment, we may recommend a spa treatment or other way for you to relax and reconnect with yourself.
In need of some discreet self-care via cosmetic dentistry services in Newport Beach?
At Luminous Smiles, we offer services like no other dentist in Southern California, and we're proud to be the best dentist in Newport Beach. Our concierge dental service puts you first, and we'll be ready when you are. To request an appointment or video consultation, simply complete our online form.