Expert care and dentists you can trust.
At Luminous Smiles, you can be confident your smile is in safe hands. Dr. Dimple Desai is a leading general and cosmetic dentist in California known for providing an outstanding level of dental care to her patients.
We also have a fully qualified prosthodontist at our practice. Dr. Favian Cheong completed three additional years of intensive training and education in a CODA-accredited graduate prosthodontic program after his four years of dental school. Dedicated to excellence, Dr. Cheong is a certified specialist in aesthetic (cosmetic) restorations. As an expert in the replacement of missing and broken teeth, Dr. Cheong can help to optimize your smile so you can smile brightly.
Full Implant-Supported Dentures
Cost-effective solutions for when teeth can't be saved.
Saving your natural teeth is always our aim. But, if you have damaged or worn teeth that need to be removed, replacement is possible with fixed, implant-supported dentures. These are non-removable prosthetics used to replace missing teeth, anchored to dental implants to prevent shifting and add stability.
When all teeth need to be removed, full implant-supported dentures can be uniquely crafted to replace all of your teeth and leave you with a beautiful, fully functional smile. The process will include detailed scans and measurements with precise attention to the natural symmetry of your whole face. Dr. Desai is the only female in Newport Beach who is accredited by the American Academy of Cosmetic Dentistry, an achievement held by fewer than 500 dentists across the world. Your smile will be beautiful and healthy once again.
Build confidence in your smile.
No more being
self-conscious
Smile brightly
every day
Restore function
and oral health
Restoring your smile using the latest techniques.
Dental implants are an ideal option for restoring your smile if your teeth are damaged or decayed. The simplest difference to note between implants and dentures is that dentures are removable. Additionally, dentures have known issues such as food particle accumulation, inducing gagging for some, sore gums, and a lack of stimulation to the jaw bone which results in bone loss and muscle loss. Because of that lack of stimulation, long-term denture wearers will see a change in their facial structure. Implants are a more permanent solution and can last for decades.
So, what is involved in this procedure? Firstly, a small titanium post is surgically placed into your jawbone. The implant will fuse with your jaw over time, which offers a strong and durable solution for your missing teeth. An abutment is placed over the implant, followed by a replacement tooth—this could be an implant-supported bridge or dentures or a custom crown fabricated to function just like a natural tooth without affecting any adjacent teeth. Treatment is completely tailored to your dental needs as no mouth or teeth are quite the same. Implants are an effective solution whether you're missing one or several teeth. Speak to your dentist about whether you're a candidate for dental implants.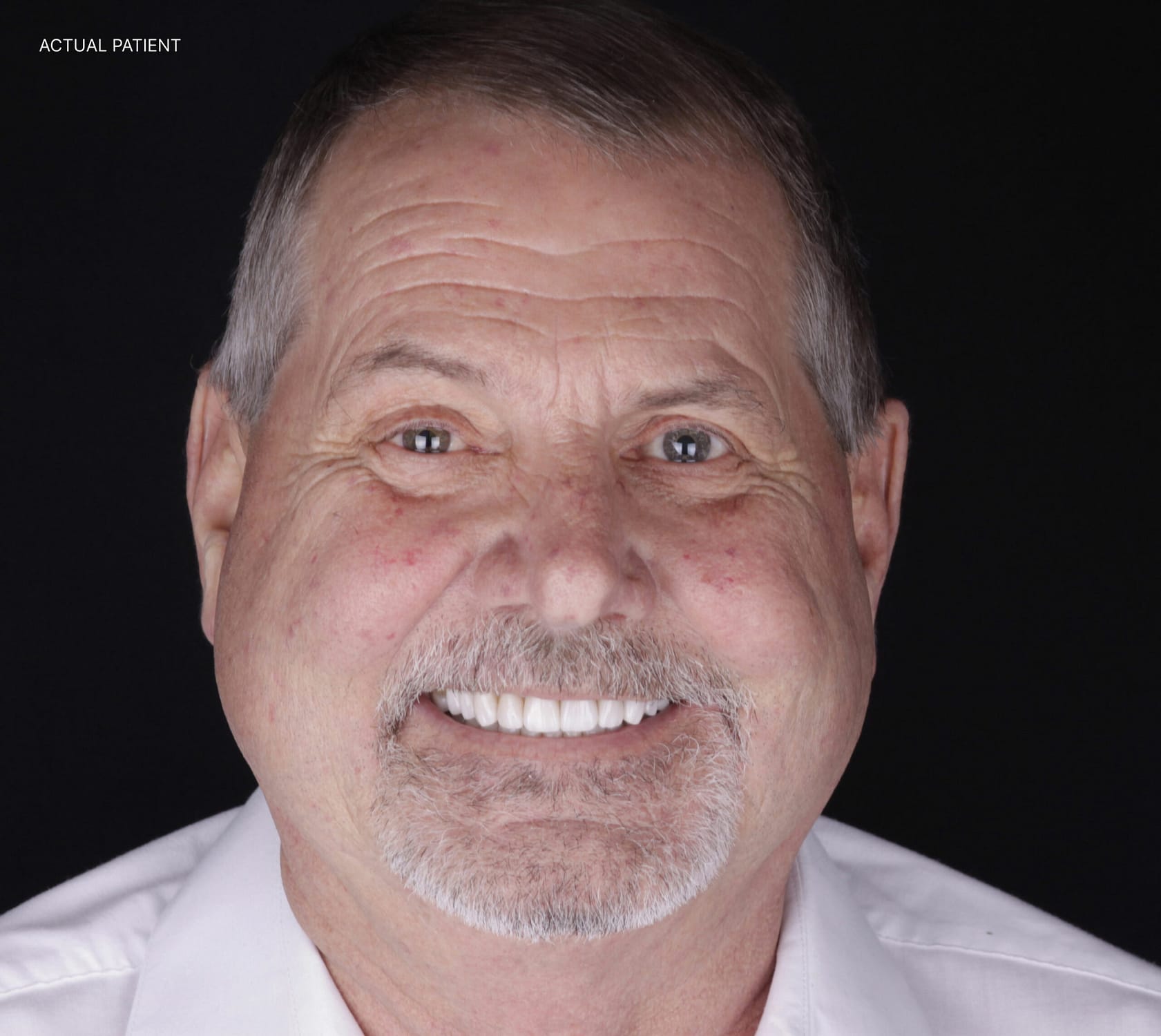 Full Mouth Rehabilitation
Transform your smile completely with a smile makeover.
Whether you have experienced mouth trauma or your teeth have deteriorated over the years, a full mouth rehabilitation will completely transform your smile. A full mouth rehabilitation is sometimes referred to as a full mouth reconstruction. It involves using a range of dental techniques and procedures to improve aesthetics and function. Dental restorations require extensive knowledge and experience to produce not only a beautiful smile, but a physiologically functional smile as well. For example, the temporomandibular joint (TMJ) is analyzed and placed in its correct position to assure new teeth and restorations will function without puting stress on the joints. That is one of many considerations that Dr. Desai will account for in her treatment plan.
A full mouth rehabilitation plan is often staged in phases with the end result in mind. Aesthetics follow after function is restored and might include a combination of treatments, such as gum contouring and periodontal care, plaque removal and teeth cleaning, crowns, bridges, veneers, and/or implants or other restorations. With a full mouth rehabilitation, your dentist will transform your oral health and make significant visible improvements to your smile.
No more messy impressions—your comfort is our priority!
At Luminous Smiles, we only use the latest in technology, so our patients can experience premium comfort and care. With the iTero Digital Scanner, it is now possible to scan your mouth digitally, without the need for the messy impressions of yesterday.
Our scanner provides a highly accurate 3D view of your mouth, teeth, and gums. This means our dentists can diagnose and treat oral health conditions more effectively. It also allows the Luminous Smiles team to create crowns, veneers, and implants to suit each patient perfectly. Digital scanning is a fast process—in less than five minutes, we'll have a perfect 3D impression ready for the next steps in your dental treatment plan.
A stress-free dental experience.
Many people avoid visiting the dentist and, unfortunately, that can lead to a lifetime of dental problems if issues are left untreated. Sedation dentistry is an ideal option if you experience dental-related anxiety. It involves the use of medication to help you relax during your treatment. Sedation dentistry can be particularly useful for complex procedures or long restoration treatments. There are several options available:
Liquid numbing gel that does not require an injection..
Oral sedation (using a pharmacological agent administered before treatment).
IV sedation for patients who need a deeper form of sedation.
At Luminous Smiles, we even have an in-house anesthesiologist, so all sedation is expertly delivered by a specialist.
If you're nervous about visiting the dentist or undergoing treatment, chat to our friendly team about these sedation dentistry options. Your comfort is our top priority and you can be sure you'll have the best possible dental experience at Luminous Smiles.
Dental Care from an Award-winning Dentist in Newport Beach
Your Smile Deserves the Best
Dr. Dimple Desai graduated among top of her class from USC dental school in 2008 after being selected for a two-year scholarship by a family who wanted to support a dentist who would carry on their father's legacy and vision for dentistry. Since then, she's graduated from the Kois Institute; earned an American Academy of Cosmetic Dentistry accreditation; attended Spears workshops; been voted one of the nation's top 40 dentists under age 40; received the Top Dentist award for Orange County in 2020, 2021, and 2022; been published in "Inside Dentistry" and worked with Miss California pageant winners.
Dr. Desai is one of the 490 dentists worldwide with American Academy of Cosmetic Dentistry accreditation.
And the only female dentist in Newport Beach with such accreditation and clinical skills and education. You're in expert hands at Luminous Smiles.
Discover a new you and start your smile transformation today!
Contact Luminous Smiles to book a consultation.