How We Create Beautiful Smiles With Scientifically Proven Smile Design in Newport Beach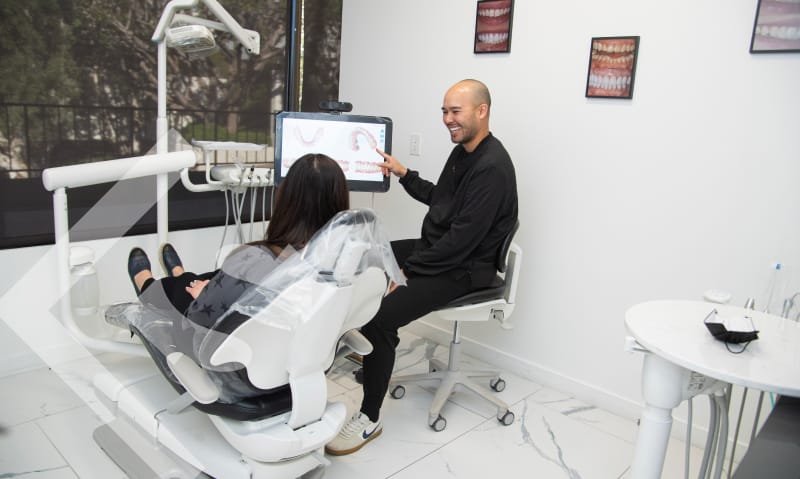 Working With Your Dentist for the Perfect Smile Design in Newport Beach
Achieving a better smile can improve your appearance and help boost self-confidence, but how exactly do you get there? At Luminous Smiles, Dr. Desai will carefully plan your smile makeover to deliver the best results for your unique smile and facial structure.
If you're not fully satisfied with the current appearance of your smile, you can start with an evaluation by Dr. Desai to discuss your smile-makeover goals. This initial consultation plays an essential role in defining the results you're looking for and how you can get there.
Your evaluation can focus on a variety of imperfections in your smile. Whether your teeth are discolored, cracked, chipped, crowded, misaligned, or malformed, a smile makeover can address your concerns and offer significant improvements to both aesthetics and function.
If you already know the kind of results you're looking for or can bring pictures showing what you'd like, Dr. Desai can translate those goals into your ideal treatment plan.
Planning a smile makeover is a combination of both artistry and science. Dr. Desai has the necessary knowledge, experience, and intuition to lay out a treatment plan that will take you from your current smile to your ideal smile.
Mapping Your Face To Plan Your Smile Makeover
Dr. Desai takes many factors into account when treatment planning your smile makeover. In fact, you might not realize just how much your facial structure has to do with the appearance of your smile, and vice versa.
The shape of your face has a significant impact on your smile design. Individual faces can be round, square, long, or wide, and that affects what your final smile design should look like.
Smile symmetry, tooth length, gumline contour, and other factors all have a certain synergy with your face. They can draw attention to or from features, and this is something important to consider during the planning process.
Dr. Desai takes a rigorous approach to mapping your face when planning your makeover. This includes having patients wear special "midline glasses" in order to take accurate measurements regarding the shape and symmetry of their faces.
How your eyes, nose, mouth, and chin align is an important factor in planning your smile makeover. It impacts how smile symmetry is perceived, so these measurements are essential to delivering the results you need.
The buccal corridor is another criterion to evaluate during treatment planning. It's the space between the corners of your lips and the visible surfaces of the posterior teeth when you smile. You don't want your smile to appear too wide or too narrow.
Dr. Desai also measures the width of the upper and lower lips to incorporate them into your smile planning. She even uses a special shade guide to evaluate the shade of the whites of your eyes to ensure the proper coordination with the brightness of your smile.
Your Smile Makeover Treatment Plan
Once she finishes taking all these measurements, Dr. Desai will develop a treatment plan and discuss options that can help you achieve your smile goals. Cosmetic dentistry in Newport Beach can include a wide range of potential treatments.
Teeth whitening is one of the fastest and most convenient treatment options. Brighter teeth can noticeably improve the appearance of your smile, and Dr. Desai will ensure that you achieve the best shade for a flawless, natural appearance.
Bonding is another noninvasive treatment option for a better smile. This composite resin instantly cures under a special UV light, concealing chips, cracks, and other relatively minor issues in as little as one visit.
Some patients benefit more from porcelain veneers. Discoloration, damage, and other concerns can all be fixed with veneers. These are specially formed porcelain shells that easily adhere to the front of the teeth. Dr. Desai also offers prepless veneers for faster, less invasive treatment.
Gum contouring can adjust the proportions of your smile by changing the shape of your gumline. Crown lengthening is a similar procedure and can improve the visible length of your teeth to correct a gummy smile.
For crooked or crowded teeth, Invisalign is a great treatment option. Other dental issues might call for restorative treatments such as dental crowns or bridges.
Dr. Desai will consider your needs and develop a treatment plan to achieve the perfect smile design for you. You can see some of the results she has already provided for patients in our smile gallery.
Take advantage of cosmetic dentistry in Newport Beach.
A smile makeover could be just what you need for a brand-new look and improved self-confidence. Dr. Desai and the team at Luminous Smiles offer outstanding smile design in Newport Beach with personalized, highly skilled care. Schedule your consultation today.