Crown Lengthening Surgery: Before, During, and After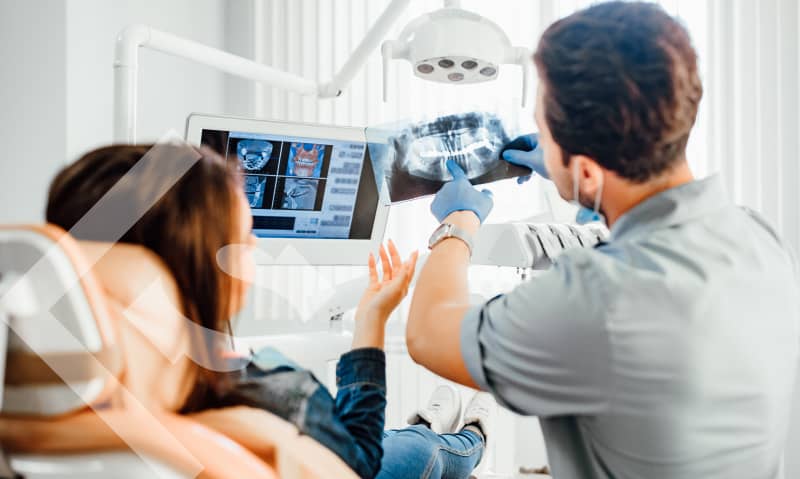 Correcting Short or Misshapen Teeth
Do you feel like your teeth look too small? Oddly shaped or short teeth can throw off the balance of your smile, making it appear shallow and gummy. In contrast, longer, well-shaped teeth give a fuller, more youthful appearance to your smile.
Crown lengthening surgery is one treatment option your cosmetic dentist can use to change the visible length and shape of your teeth. It can also be a valuable restorative service for repairing decay or damage close to the gum tissue.
What is crown lengthening?
Crown lengthening surgery is a relatively simple restorative and cosmetic service that removes gum tissue to expose more of the natural tooth.
Are crown lengthening and gum contouring the same thing?
Crown lengthening and gum contouring are different procedures, though cosmetic dentists often combine these services.
Gum contouring is a cosmetic procedure that reshapes the size or shape of the gums from an aesthetic perspective. Crown lengthening is a restorative procedure that removes both soft and hard tissue when necessary to extend the visible length of the teeth for both a functional and beautiful effect. This provides more usable tooth structure for restorations such as crowns.
With that in mind, crown lengthening can be done as a standalone service when a person's gums don't need contouring.
Who would benefit from crown lengthening?
Crown lengthening is most beneficial for people in one of three situations:
1. People Who Want Longer Teeth
If your teeth are healthy but you think they look small and unbalanced, crown lengthening is a great way to address this concern. Your cosmetic dentist may lengthen your crown, reduce surrounding bone, and follow up with an additional cosmetic service, such as porcelain veneers. 
2. People Who Need More Tooth Structure for a Restoration
Sometimes people have a tooth that needs a crown, but the tooth is too short to accept one. In this case, your dentist can use crown lengthening to expose more of the natural tooth and then prepare it accordingly for the dental restoration.
3. People Who Have Damage or Decay Below the Gumline
Another way crown lengthening aids in restorative dental care is when decay or a fracture extends beyond the visible tooth. Damage that goes past the gums can be treated by using crown lengthening to move back the gums and expose the decay or fracture. Your dentist will treat the damage and then protect the tooth with a dental restoration.
The only way to know if crown lengthening will help you achieve your smile goals is through an in-person consultation with a cosmetic dentist like Dr. Desai.
What can I expect before and during the treatment process?
Crown lengthening surgery is often completed within an hour or so, although this estimation largely depends on whether you're receiving additional cosmetic or restorative services. During your visit, your dentist will first numb your mouth, and you'll simply lie back and relax in your patient chair.
During the crown lengthening surgery, your dentist will carefully begin moving back your gum-line using advanced techniques while their assistant ensures you feel comfortable. Many patients find the actual surgery to be quite easy and over before they know it.
If you feel anxious about your surgery, you can opt for sedation dentistry, where you'll be given an oral sedative or breathe nitrous oxide to help ease any nervous feelings.
Immediately after surgery, when the numbing wears off, you'll feel some normal discomfort and perhaps light bleeding from the surgery site. Your dentist will give you thorough postoperative instructions to take home with you.
What will crown lengthening recovery be like?
Aftercare begins right when you get home. Your dentist's aftercare instructions will give you vital information and tips to heal well from surgery.
You'll likely have some swelling during the first day or so. This is completely normal. You can use ice packs to bring down the swelling. Be careful not to eat or drink anything hot, as this can irritate the surgical site and trigger bleeding. You should also take it easy for the next few days. Rest the day of surgery and don't do anything strenuous for two to three days afterward.
Gums take between two and three months to completely heal after crown lengthening surgery. After fully healing, you can expect beautiful results like the before and afters in our smile gallery.
Crown Lengthening Surgery in Newport Beach, California
Dr. Desai is a highly accredited cosmetic dentist in Newport Beach that can take your smile from "eh" to "wow"! Crown lengthening surgery is just one way she helps patients just like you get the smile of their dreams. Schedule your consultation today by calling Luminous Smiles or requesting a visit online.