An Overview of the Full Mouth Restoration Process at Luminous Smiles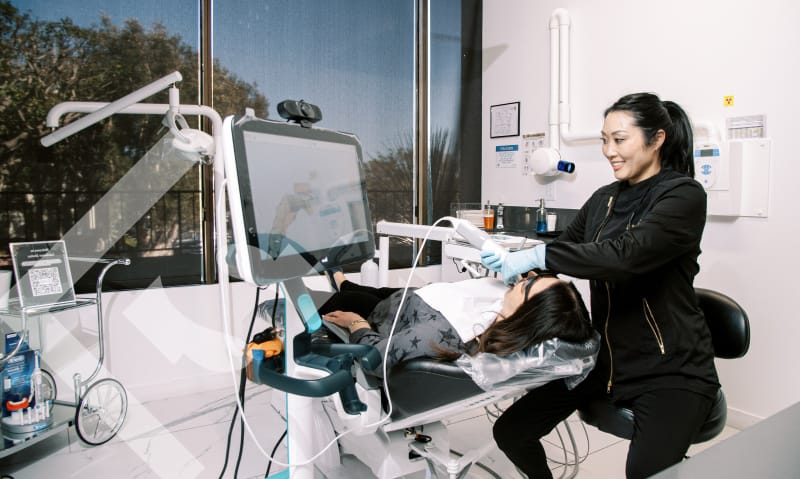 Full Mouth Restoration from Beginning to End
At Luminous Smiles, our team carries out full mouth restorations to completely transform the oral health of our patients and give them the smile of their dreams. This process is for individuals who have had serious mouth trauma or severe tooth deterioration over the years.
The teeth restoration process is unique to each patient. We develop personalized treatment plans that can make use of many different techniques and procedures to restore your smile.
Crowns, bridges, veneers, implants, gum contouring, temporomandibular joint correction, and other restorative and cosmetic dental treatments can be used. With a full mouth reconstruction, patients can enjoy a better smile, improved oral health, and a higher quality of life.
The Full Mouth Restoration Process
At Luminous Smiles, your full mouth rehabilitation will be carried out by our expert dental team, headed by cosmetic specialist Dr. Dimple Desai. We guide our patients through this process with consideration and care so they can receive the best possible results.
Defining and Evaluating Your Dental Problems
The first step is determining what your unique dental problems are. When you come into Luminous Smiles for a consultation, we'll begin the process of diagnosing your oral health issues, evaluating the condition of your teeth, and identifying other factors that your full mouth restoration can resolve.
We evaluate the desired outcomes for your restoration in terms of both functional and cosmetic criteria. By taking both areas into account, we ensure that our patients receive the highest level of care and a smile they'll love to show off.
Reviewing Your Potential Options
Once the desired outcomes have been identified, our team will evaluate your current condition and medical history to determine which options are appropriate for you. Every patient is different, so it's essential for us to determine if a specific treatment will meet your unique needs.
Discussing Your Best Treatment Plan
Once our team has determined which treatment options can best meet your unique dental needs, we will discuss your treatment plan in detail. We'll go over exactly which techniques and procedures will be able to provide you with the best results.
Our team wants to make all of our patients as comfortable as possible, so we're happy to answer any questions and address any concerns you have about the proposed treatment.
Deciding on the Details of Any Prosthetics
Crowns, bridges, veneers, implants, and other dental prosthetics are all fully customized for each patient. This customization isn't just about making sure they fit properly but also ensuring that your new smile has the appearance you want.
We'll discuss your options for the various materials that can be used for your dental prosthetics. Porcelain, ceramic, and resin are all common choices and can vary in appearance, durability, and cost. A range of color options is also available to match the shade of your remaining natural teeth.
Planning Your Treatment Schedule
Once the details are decided on, we'll plan your treatment schedule. There will be specific appointments for imaging and taking the impressions that will help us ensure your dental prosthetics are a perfect fit.
If you require dental implants, you'll also need to schedule implant surgery. This surgery embeds one or more posts into the jawbone that will serve as a strong foundation for replacement teeth.
Completing Your Prosthodontic Design
With the necessary imaging and impressions ready, we'll carry out prosthodontic design to prepare any required crowns, bridges, veneers, or other dental prosthetics. This process is carried out with the latest technology and software, making use of 3D scans to ensure the perfect fit and appearance.
Recovering After Full Mouth Reconstruction
After your full mouth rehabilitation, there will be some recovery time. Because teeth restoration can require a range of different procedures, this recovery will differ from patient to patient.
If your restoration requires a crown or bridge, you may experience some discomfort and sensitivity for several days following the procedure. It's also important to take proper care of your new dental prosthetic. Our team will make sure you know everything you need to.
Restorations involving implants will require yout to have implant surgery. Recovery after this surgery can include bleeding gums for up to 72 hours and swelling. Over-the-counter-pain medication is often recommended. Most patients are back to normal without any discomfort after a week.
Start your full mouth restoration process with Luminous Smiles.
If you're dealing with mouth trauma or serious tooth deterioration, you can reach out to Luminous Smiles for a consultation regarding full mouth restoration. Dr. Desai and her team are experienced specialists who can help you arrive at the best possible outcome and give you a beautiful smile and great oral health. Schedule a consultation at Luminous Smiles today.